Downsides of Dual Agency in Real Estate Sales
Posted: February 24, 2018 @ 9:30 pm
How Does Agency Work in Real Estate?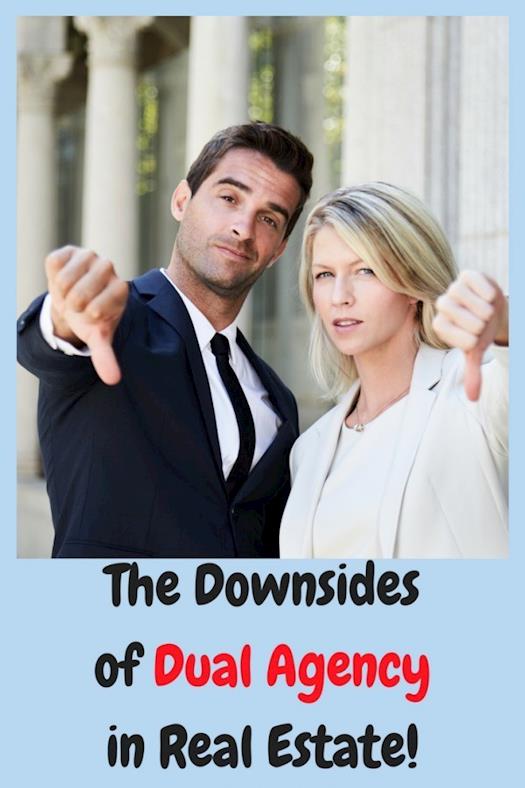 In real estate sales it makes sense for either a buyer or seller to have someone representing their best interests. This is in fact how most real estate transactions work. There will be an agent representing the buyer also known as a "buyer's agent" and an agent representing the seller also known as a "seller's agent".

Each of these respective agents should have one goal in mind - protecting their clients best interests. The real estate agent becomes their confidant or advisor. Traditionally, the most significant role of an agent comes in the form of educating the client on real estate values. Nobody wants to overpay for a property when buying or sell themselves short when it comes to selling.

Exceptional real estate agents provide these services to their clients. A great real estate agent knows local market values inside and out. Providing undivided loyalty, confidentiality and guidance, however, doesn't stop after an offer is accepted.

Additionally, agents represent their clients throughout all stages of the buying and selling process. For example, the home inspection is a major stage in a sale. Each agent remains an advisor to their client.

The buyer might be given a list of items from their home inspector that need attention. A real estate agent is then able to advise the buyer what would be acceptable to ask the seller to fix and what wouldn't.

A major reason why any real estate agent is hired is for their knowledge and expertise! Getting advice and guidance goes out the window when you agree to allow dual agency.
What is Dual Agency?
Let's get one thing out on the table right away. Dual agency does not benefit a buyer or seller in any way. Dual agency can be defined in a few ways depending on what state you are located in. The most common form of dual agency is when one agent represents both the buyer and the seller in one transaction.

So why is this bad? When you agree to dual agency either as a buyer or a seller you give up representation from your real estate agent. So what exactly does that mean in the real world? When you find a home you want to make an offer on and you ask a "dual agent" what you should offer by law they are not allowed to give you any guidance.

Conversely, if you are selling a home and a buyer makes an offer your real estate agent is not allowed to counsel you either. Think about that for a minute. You are paying a real estate agent thousands of dollars if not tens of thousands of dollars and they can no longer help you. Dual agency is complete non-sense! It is the most ridiculous thing ever allowed in real estate sales.

Here is the rub. As a buyer or a seller you need to agree to dual agency for it to happen. Real Estate agents are required by law to explain how dual agency works in your respective state.

There is a big problem though. The real estate agent has a vested interest in you agreeing to allow dual agency. How many real estate agents do you think explain dual agency correctly? How many agents do you think sugar coat dual agency into sounding completely acceptable? The answer is lots and consumers suffer for it.

Dual agency is not acceptable. In fact, it is banned in quite a few states which I'll get to in a minute.
Be sure to visit the resource above that explains in-depth exactly how dual agency works.
How Does Dual Agency Occur?
Folks dual agency most often starts with a seller. The real estate agent you hire should remain a seller's agent throughout the transaction. They should represent you and only you! You should never allow YOUR real estate agent to become a neutral party. You have a choice at the interview with your agent to not accept dual agency.

You might be wondering what happens if a buyer comes directly to your real estate agent. Your real estate agent can either refer to the buyer to a different agent or they can remain as a seller's agent. There is no reason ever for you to accept dual agency. The only person that dual agency benefits is the real estate agent!
Difference Between Dual and Designated Agency
In some locations dual agency is described as two different agents each within the same firm representing the buyer and seller. This in fact is COMPLETELY different than single agent dual agency.

When there are two different agents involved in the transaction both the buyer and seller have someone in their corner. Each party has representation in this scenario. In many states when a buyer and seller are using two agents from the same firm it's called designated agency. Designated agency should not be confused with single agent dual agency.

The big take home here is that you want someone who represents you when buying or selling a home. There are tons of real estate agents that practice dual agency and just as many that don't.

You really get an understanding, however, where a real estate agents mindset lies when they practice dual agency. When you are buying or selling a home you want someone who cares more about you than their wallet. With dual agency caring about you goes out the window.
Where is Dual Agency Banned?
There are eight states that have banned real estate agents from practicing dual agency. Of these eight states that ban dual agency outright, four allow designated agency and they include:
Three of the states allow transaction brokerage including:

Three states allow both transaction brokerage and designated agency.
Frankly, there are more states that should be banning dual agency. It should be made illegal everywhere. Consumer laws are put in place to protect buyers and sellers. Acceptance of dual agency has been a hard practice to put to bed because so many real estate agents are against it going away.

There are powerful real estate lobbying groups in place that make sure dual agency sticks around for the financial benefits of so many real estate companies. It is a sad state of affairs.

When buying or selling a home look for a real estate agent who is always looking to do the "right thing". Not someone who cares about making the long dollar.
Other References Worth Reading About Dual Agency
Use these additional resources to understand why dual agency in real estate sales does not benefit consumers.

About the author: Bill Gassett, is a Nationally recognized leader in his field. He has written articles for a number of prominent real estate publications including RIS Media, The National Association of Realtors, Inman News, Placester, RESAAS, Credit Sesame and others. Bill services Real Estate sales in and around the Metrowest Massachusetts area.


Author:
Bill Gassett
Viewed:
11,618 Views
Check Out All Of 's Images, and Blogs!
Comments:
| | |
| --- | --- |
| | You and Like This. |
Gabe Sanders Stuart FL Real Estate Many consumers do not understand this and often seek out dual agency situations with the mistaken belief that they can get a better deal.
1,907 Days Ago
Maximum Real Estate Exposure You are absolutely correct Gabe. Get a small reduction in commission but overpay by 10,000. Makes a lot of sense doesn't it.
1,907 Days Ago
You Must Sign In To Post A Comment. Sign Up - It's

Free

!